Fuelcell
A compact option for jobsite refueling that fits on the back of a truck has been unveiled by Western Global.
The FuelCube FCS119 is a double-walled fuel tank that can fit in a truck bed. Fuel is supplied quickly and easily without the requirement of a hazardous material certification.
"The FuelCube Type-S propels Western Global into a new sector," said Jeff Lowe, vice president of product marketing at Western Global. "Operations have been using traditional slip tanks to refuel smaller diesel equipment fleets without a hazardous materials placard, but they're looking for a more secure, user-friendly option."
Featuring a 119-gallon capacity, the FuelCube Type-S is optimal for 3/4-ton pickups or larger due to the tank's weight when filled with fuel.
According to Western Global, unlike slip tanks, contractors can easily lift this tank out of the truck using the tank's four-way forklift pockets, increasing efficiency and use of truck bed space while using the tank as a stationary refueler.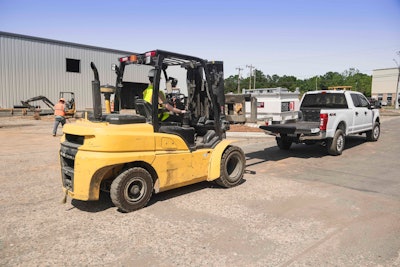 The dual-purpose adaptability of the tank allows businesses to use it as a truck bed tank or an on-site tank.
Weatherproof and double-walled 110% containment, the FuelCube Type-S is also stackable (2) high when empty with corner brackets to save space on jobsites. 
The company says the double-walled containment reduces the potential of a fuel spill should the tank be damaged. 
In addition, to prevent theft issues, the FuelCube Type-S offers a lockable equipment cabinet to protect the pump and feed/return lines. The cabinet shields the pump and hose from the elements, extending the components' life.
"Slip tanks are ubiquitous in the equipment landscape," Lowe said. "Despite that, they're difficult to unload and vulnerable to fuel theft. That's why we're eager to offer operators a product with more adaptability, mobility, and security to optimize their fueling experience."
From a maintenance perspective, there is a removable inner tank for routine cleaning, maintenance, and inspection.
Fuelcell Quick Specs
Capacity: 119 gallons
Dimensions: 46 x 46 x 32 inches
Weight (empty): 736 lbs.
Weight (full): 1,623 lbs.